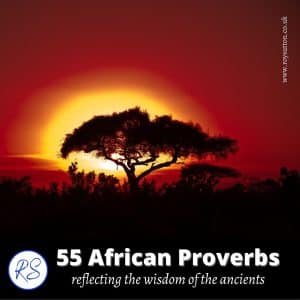 There's a world of wisdom reflected in all those common sayings we tend to take for granted. Take a look around the world and it's not hard to find wisdom wherever you go. So today I thought it would be interesting to take a look at some African proverbs.
I've curated 55 proverbs credited with originating from various parts of Africa and I thought many of them were truly inspirational.
Take a look at them all and see what you think. See how many of them you can work into your conversations with people over the next few days.
African Proverbs (1-20):
He who learns teaches.
A tree is known for its fruit.
A man's ruin lies in his tongue.
It's not work that kills but worry.
A thief does not like to be robbed.
Rising early makes the road short.
Hold a true friend with both hands.
Seeing is different from being told.
He who forgives ends the argument.
Don't set sail on someone else's star.
A horse has four legs, yet it often falls.
The fool speaks. The wise man listens.
A clear conscience makes a soft pillow.
God is good but never dance with a lion.
He who refuses to obey cannot command.
Peace is costly but it's worth the expense.
A lie has many variations, the truth none.
Examine what is said, not who is speaking.
However long the night, the dawn will break.
The teeth that laugh are also those that bite.
African Proverbs (21-40):
When spiders' webs unite, they can tie up a lion.
Not to know is bad. Not to wish to know is worse.
If you're not going to bite, don't show your teeth.
One who truly loves you loves you with your dirt.
If you think education is expensive try ignorance.
It's the calm and silent water that drowns a man.
If you and a fool have an argument, he succeeds.
Do not try to fight a lion if you're not one yourself.
If you want to know the end, look at the beginning.
Ashes fly back into the face of he who throws them.
When an old man dies a library burns to the ground.
For the beauty of the rose, we also water the thorns.
Never beat a snake when you haven't seen its head.
The lion does not turn around when a small dog barks.
Character is like pregnancy, it cannot be hidden forever.
A wise man never knows all, only fools know everything.
A friend who frowns is better than an enemy who smiles.
If you're filled with pride, you'll have no room for wisdom.
When the mouse laughs at the cat, there's a hole nearby.
As you do for your ancestors, your children will do for you.
African Proverbs (41-55):
A man does not wander far from where his corn is roasting.
When the roots are deep there's no reason to fear the wind.
The rain wets the leopard's spots but does not wash them off.
Those who pray for rain should be ready to deal with the mud.
Every closed eye is not sleeping and every open eye is not seeing.
If you want to go fast, go alone. If you want to go far, go together.
When there is no enemy within, the enemies outside cannot hurt you.
A child who is carried on the back will not know how far the journey is.
In the moment of crisis, the wise build bridges and the foolish build dams.
An army of sheep led by a lion can defeat an army of lions led by a sheep.
The man may be the head of the home but his wife is the heart of the home.
True teaching is not an accumulation of knowledge it's an awakening of consciousness.
People who drink to drown their sorrows should be told that sorrow knows how to swim.
A family is like a forest. When you're outside, it's dense. When you're inside you see that each tree has its place.
You can out-distance that which is running after you, but you cannot out-distance that which is running inside you.
Enjoyed these African proverbs? Please share them:
So dear reader, was this post interesting and worth a few minutes of your time?
If any of these African proverbs resonated with you in some way then please share this post with your friends on social media.
When you share, everyone wins.
So go on, please share this post now. If you could do that for me, I'll be ever so grateful and you'll be helping a keen blogger reach a wider audience.
Thank you.
Other articles that might appeal to you:
Copyright © Mann Island Media Limited 2022. All Rights Reserved.