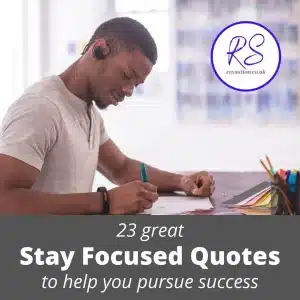 If you don't know exactly what you want then you'll never get it. That much is philosophically self-evident to you I'm sure, dear reader. However, how can you know what you want?
Well if necessary keep trying stuff until you find something you really enjoy and at which you excel.
And once you've found something you love, stay focused on it and take it as far as you can possibly go.
That's the way to achieve real success.
Here are 23 great stay focused quotes to help you on your way.
Stay focused quotes (1-7):
Stay focused quotes (8-15):
Stay focused quotes (16-23):         
Please share this post with your friends:
So dear reader, was this post worth a little piece of your time?
If it was then please share it with your friends on social media. When you share, everyone wins.
If you could share it now, then I'd be ever so grateful. You'd be helping a keen blogger reach a wider audience.
Thank you.
Other articles that might appeal to you:
Copyright © Mann Island Media Limited 2022. All Rights Reserved.
(Visited 534 times, 26 visits today)