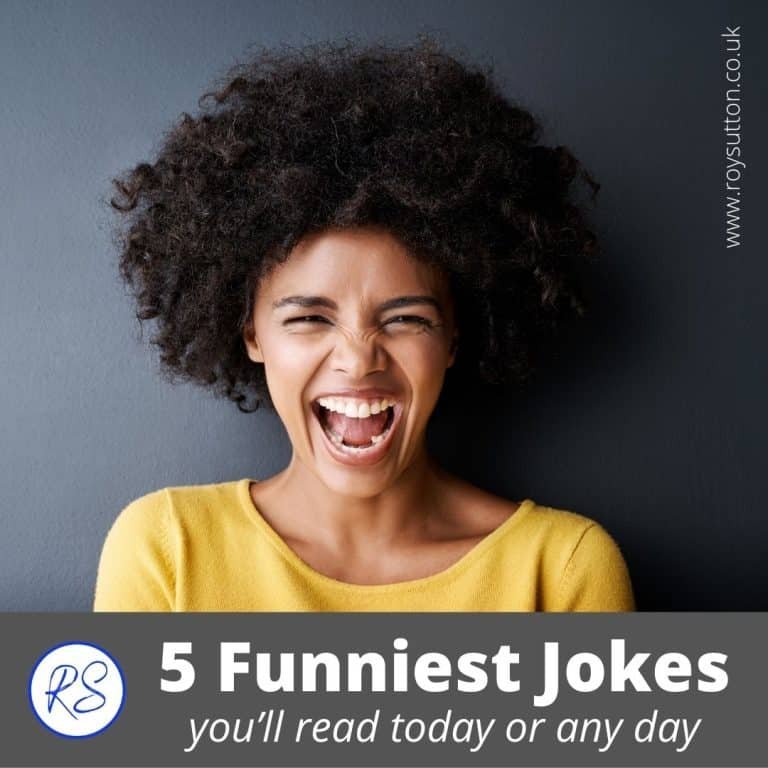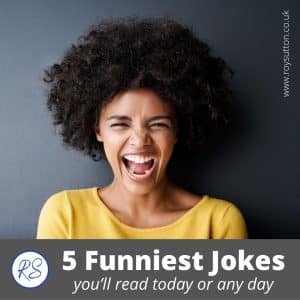 If you've been searching for the funniest jokes then I'm sure you'll enjoy the five I have on offer here. They all made me laugh and I hope you enjoy them. too, dear reader.
And if you do enjoy them, don't forget to pass them on. You'll be helping a keen blogger reach a wider audience. So, thank you.
Funniest Jokes:
1. Fred & Ginger dining out:
Fred Astaire and Ginger Rogers were dining out in a very swanky, five-star New York City hotel and they'd both made a point of dressing for the occasion.
Ginger looked absolutely stunning in her ball gown and diamond tiara while Fred arrived in his trademark top hat, white tie and tails. They both looked like the million-dollar movie stars they were.
All was going well with dinner until they got to dessert. While serving dessert the clumsy waiter managed to trip and Fred was showered from head to toe in treacle pudding.
"Oh, I'm most terribly sorry, Mr Astaire," said the waiter.
Fred was not amused. "So you ought to be," he said angrily.
Fred sat there fuming as the waiter tried his best to assist.
"Look at the state of me now," said Fred. "I've pudding on my top hat; pudding on my white tie; and pudding on my tails."
2. Church on Sunday:
Leaving church one Sunday Bernadette said to her husband Frank, "Do you think Mrs O'Shaughnessy is dying her hair?"
"To be honest Bernadette, I didn't even notice Mrs O'Shaughnessy," Frank responded.
They walked together quietly for a few moments and then Bernadette remarked, "Did you see that skirt Mrs Kilkenny was wearing? Now don't tell me you thought that was appropriate for a 40-year-old mother of six."
"I'm afraid I didn't really notice Mrs Kilkenny either," said Frank.
"Huh!" Bernadette responded dismissively. "A lot of good it does you going to church on Sundays."
3. The will reading:
A lawyer was reading out the will of a wealthy man to his family and everyone mentioned in the document.
"To my loving wife Mary, my rock and without whom my life would have been very different, I leave the mansion in Bel-Air and $20 million," the lawyer read out loud.
He paused momentarily for his audience to digest this information and then he continued reading.
"To my darling daughter Louisa who supported me so much when my health began to fail and never once complained, I leave my business, my yacht and $1 million," said the lawyer.
Again he paused momentarily to allow this information to sink in.
The lawyer then continued reading the final section of the will, "And to my brother Neville who argued with me constantly, hated my guts and thought I would never mention him in my will. Well, you were wrong. Hi Neville!"
4. Engine trouble:
While cruising at 35,000 feet, the aircraft suddenly shuddered violently.
One passenger looked out of the window and then shouted, "Oh my God! One of the engines has just blown up."
The passengers were white with fear when moments later the aircraft was rocked by a second blast as an engine on the opposite side exploded.
Passengers started to panic and the cabin crew struggled to keep order.
However, just then the Captain strode confidently from the cockpit and assured everyone that there was nothing about which they should be alarmed.
Reassured by the Captain's calm manner, passengers returned to their seats and he coolly walked over to the aircraft's door.
He then grabbed several packages from under the seats near the door and started handing them to the rest of the crew.
Crew members immediately fastened these packages to their backs.
One observant passenger said, "Hey, aren't they parachutes?"
"Yes," said the Captain.
"But you said there was no need to be alarmed," the passenger responded.
"There isn't," replied the Captain as a third engine suddenly exploded. "We're going to get help."
5. Cashflow problem at the zoo:
A zoo was experiencing serious cash flow problems due to visitor numbers falling.
The zoo's management got together to discuss how they could reverse the trend by introducing a major attraction.
Following the meeting, the manager persuaded a visitor, who was a very big, stocky man, to take a job dressing up in a gorilla costume and masquerading as a great ape.
This deception worked well as the man really threw himself into the role with enthusiasm; devouring buckets of bananas, swinging from branches, pacing his cage menacingly, beating his chest and roaring loudly.
However one day he went a bit too far and he accidentally fell into the lion's enclosure next door.
Panicking, the bogus gorilla started shouting, "Help! Help!"
The lion let out a tremendous roar, and then rushed at him. He put his paw on the bogus gorilla's chest and growled, "Shut up buddy, or we'll both lose our jobs!"
Please share this post with your friends:
So dear reader, were these jokes worth a little piece of your time?
Perhaps you'd like more laughs? Then just click on the links below.
If you enjoyed this post then please share it with your friends on social media. When you share, everyone wins.
Other articles that might appeal to you:
Copyright © Mann Island Media Limited 2022. All Rights Reserved.
(Visited 8,775 times, 318 visits today)