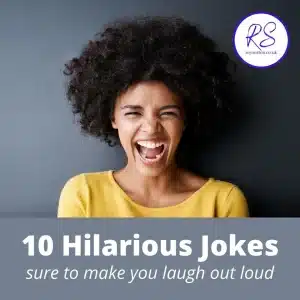 If you're in need of a good laugh and let's face it, we all need a good laugh, then once again I have a collection of jokes just for you dear reader. Here are 10 hilarious jokes sure to make you laugh out loud
Take a few moments to enjoy this batch of jokes because let's face it, it would be wrong not to.
And remember; if they have you laughing then please, please share this post with your friends on social media.
Hilarious jokes sure to make you laugh:
1. One man and his talking dog:
Jim walks into a New York bar with his dog Fido.
Jim walks right up to the bar, turns to face the seated customers and says, "This is my dog Fido and believe it or not, he's a talking dog. If I can demonstrate to you that Fido can answer any of my questions who will buy me a drink?"
"Listen, buddy, if you can demonstrate that Fido can talk, you can have a drink on the house," says the bartender.
So Jim turns to Fido and asks, "What goes on the top of a house?"
"Roof!" Fido responds.
"What does tree bark feel like?" asks Jim.
"Rough!" says Fido.
"Who was the greatest baseball player ever?" asks Jim.
"Ruth!" says Fido.
The bartender is really unimpressed with what he's hearing and he snaps at Jim. "You're a phoney buddy. We're not fooled by any of that. You and your dog can get out of here right now. Go on, on your way!"
As Jim and his dog are thrown out onto the street, Fido looks sadly at Jim and says. "What did I do wrong? Should I have said, Joe DiMaggio or Mickey Mantle?"
2. The thief and the Parrot:
A thief breaks into a house when he thinks no one will be at home.
He's creeping carefully through the property and as he steps into the lounge he's stopped dead in his tracks when he suddenly hears someone say very clearly, "Jesus is watching you!"
He stands very still for a moment until everything in the house falls silent again. At this point, he moves forward very slowly.
Once again he hears that voice, "Jesus is watching you!"
The thief is now frightened out of his wits and he stops once again to focus on locating the voice.
He's looking around peering into the darkness when he spots a birdcage and in the birdcage is a parrot.
The thief looks the parrot in the eyes and asks, "Was that you who said, 'Jesus is watching me'?"
"Yes", said the parrot.
The thief relaxes and breathes a sigh of relief. "Thank goodness for that", he says to the parrot. "What's your name?"
"The family here call me Ronald", said the parrot.
"Ronald? You cannot be serious!" laughs the thief. "What sort of family calls their pet parrot Ronald?"
"The sort of family that call their ferocious, Rottweiler guard dog Jesus" the parrot responds.
3. Hospital banter:
Five surgeons are taking their lunch break and enjoying a little banter to relax. The conversation moves on quickly to the people they regard as the best patients.
The first surgeon says, "For me, it's got to be accountants. They are the best people to operate on because when you open them up, everything on the inside is numbered."
The second surgeon responds, "No, I don't agree. Librarians have to be the best people on which to operate because everything inside them is in alphabetical order."
The third surgeon thinks for a minute, smiles and then he says, "Sounds like you've never operated on an electrician. When you open them up you'll find everything inside them is colour-coded!"
The fourth surgeon laughs and says," Well personally I prefer lawyers. They're heartless, spineless, gutless and their heads and butts are interchangeable."
The fifth surgeon has been quietly listening to the conversation so far when he's asked by the others what he thinks.
"Well I like to operate on engineers because they're always very understanding if I find myself with a few parts left over when the job's done," he says.
4. Talking dog for sale:
A couple is out for a walk when they notice a large sign outside a house that reads, "Talking Dog for Sale."
They are both intrigued by the idea of a talking dog, so they knock on the door and ask if they can take a look at this dog
"Sure!" says the owner, "Come on in."
The owner escorts them into the lounge where the dog is lying on the sofa watching television.
"Hello," they say to the dog.
"Hello," the dog responds.
"What have you done with your life so far then?" the couple ask the dog.
"Well actually I've led a very full life," says the dog.
"Really?" says the couple.
"Yes really," says the dog. "I've lived in the Alps rescuing avalanche victims. Then I served my country in Iraq. And now I work part-time reading to the residents in a retirement home."
The couple is amazed by this. They can't believe any dog could have done quite so much.
One of them then asks the dog's owner, "Why on earth would you want to get rid of this amazing dog?"
"Oh, we're getting rid of him because he's a liar. He's not done any of those things" says the owner.
5. Miscommunication:
Jed goes into a public restroom and he's barely sat down in the cubicle when he hears a voice say, "Hi, how are you?"
Feeling a little embarrassed Jed says politely, "Well I guess I'm doing fine thank you!"
The voice then responds, "So what are you up to?"
Jed is even more embarrassed but once again he responds politely, "Well just like you, I'm sitting here trying to get a load off my mind."
He then hears the voice say, "Hey, can I come over?"
Jed is now extremely embarrassed and starting to get slightly irritated too, so he snaps back, "Look, surely you understand I'm a bit busy right now!"
At this point, he hears the voice say, "Jane listen, I'll have to call you back. There's an idiot in the next cubicle who keeps responding to all my questions!"
6. Two hunters:
Two hunters are out in the woods hunting bears when one of them suddenly collapses.
The other guy checks him over and realises that he's not breathing and his eyes are a bit glazed. So he grabs his cell phone and immediately calls 911.
"I think my friend's dead!" he yells down the phone with panic in his voice. "What should I do?"
"Sir, if you can just calm down I'll help you," says the operator calmly. "Let's just make sure he's dead first."
There's then a moment of silence, followed by what is clearly a gunshot.
Back on the phone, the guy then says to the operator, "Right, now what?"
7. Cosmetic surgery:
Jill, a middle-aged woman, is having surgery in hospital following a severe heart attack when she has a vision of God by her bedside.
"Will I die God?" she asks.
To which God responds, "No my dear, you still have 30 more years to live yet."
Well if she's got 30 more years to look forward to and since she's in hospital anyway, Jill decides she might as well make the most of her operation.
So she gets breast implants, liposuction, a tummy tuck, a hair transplant, and collagen injections in her lips. When it's all finished and the bruises have healed she looks absolutely stunning and 10 years younger.
The day she's discharged from the hospital, she leaves the hospital with a real spring in her step. Feeling very good about her makeover, Jill steps into the street and is immediately knocked down by an ambulance and killed.
As she steps through the Pearly Gates, Jill sees God and decides to complain. "You said I had 30 more years to live," she says to God.
"Well that's true," says God.
"So what happened?" Jill asks.
To which God shrugs and says, "I'm sorry but I didn't recognize you."
8. Kids are smarter than you think:
A young boy walks into a barber's shop and the barber whispers to the customer to whom he's currently attending, "This kid has got to be the dumbest kid in the world. Watch and I'll prove it to you."
The barber then puts a dollar bill in one hand and two quarters in the other, then he says to the boy, 'Hey kid, which do you want the dollar bill or the quarters?'
The boy decides to take the quarters and then he leaves the shop.
"What did I tell you?" said the barber. "That dumb kid never learns!"
Later, when the customer is leaving the barber's shop he sees the same kid coming out of the ice cream store.
"Hey, kid! May I ask you a question?" asks the customer. "Why did you take the quarters instead of the dollar bill?'
The boy licks his ice cream for a moment before saying, "Because the day I take the dollar bill the game is over!"
9. Classmates:
While waiting for her first appointment with her new dentist, Jane notices his degree certificate on the wall, which includes his full name.
Suddenly, Jane remembers a tall, handsome boy from her High School class some 45 years ago who had exactly the same name. Naturally, she wonders whether this can be the same guy.
However, upon seeing him, she quickly dismisses any such thought. Surely this ageing, balding, grey-haired old man with a deeply lined face could not possibly be one of her old High School classmates?
After he had finished examining her teeth, Jane decides to ask him whether he attended the local high school.
"Yes," he replied.
"That's amazing. What year did you graduate then?" Jane asks.
"In 1973" he responds.
"Amazing, you were in my class!" Jane exclaims.
He looks at her closely and then asks, "What subject did you teach?"
10. The Monastery:
Every ten years in the Monastery, the monks were allowed to break their vow of silence to speak just two words.
With ten years gone by, Brother Michael gets his first chance to speak.
He thinks for a second and then says, "Food bad."
Another ten years go by and again Brother Michael has an opportunity to speak briefly and on this occasion, he says, "Bed hard."
A further decade later, it's the big day once more. However this time Brother Michael gives the head monk a long stare before saying, "I quit."
To which the head monk responds, "I'm not surprised. You've been complaining ever since you got here."
Please share this post:
So did these hilarious jokes make you laugh out loud? Were they all you hoped they'd be dear reader?
Perhaps you feel that you could still use a good laugh?
If so. then click on the links below. You'll find plenty of smiles to amuse you.
And if you've enjoyed what you've read then please share it all with your friends on social media.
When you share, everyone wins. It's always a good idea to pass on the smiles.
Other articles that might appeal to you:
Copyright © Mann Island Media Limited 2021. All Rights Reserved.
(Visited 14,299 times, 248 visits today)