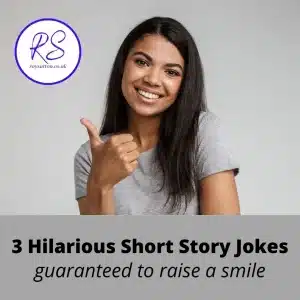 Dear reader, are you in need of a laugh? Then how about these 3 hilarious short story jokes guaranteed to raise a smile? They will have you howling with laughter. Well, they certainly made me laugh, so I hope they brighten your day too.
Hilarious short story jokes:
1. Getting married in Heaven:
A young Catholic couple, Patrick and Bernadette, were on their way to the church to get married. Sadly their lives were cruelly cut short by a road traffic accident just before they would have reached their destination.
Nevertheless, they'd lived good and decent lives, so naturally, in an instant, they found themselves standing at the Pearly Gates in front of St Peter as he reviewed a clipboard to confirm their names were on the list.
As they stood there, Patrick said to St Peter, "Will it still be possible for us to get married in Heaven?"
"To be honest, I'm not sure", said St Peter. "Believe it or not, this has never happened before. If you'll bear with me, I will check it out for you."
With that, St Peter disappeared.
So Patrick and Bernadette sat down on a nearby golden bench and they waited. And waited, and waited, and waited. They waited so long that a couple of months passed.
Naturally, in that time they chatted about their future and the challenges of being married and the fact that many of their friends who'd married found it wasn't always forever. Circumstances often change and relationships can suffer.
Eventually, St Peter reappeared looking a little flustered.
"Well", said St Peter, "I have some good news for you both. I'm pleased to be able to tell you that you will be to get married here in Heaven."
"Oh, that's great!" said Bernadette enthusiastically.
Patrick wasn't quite so enthusiastic in his reaction though.
"St Peter, I was just wondering", said Patrick, "If we were to marry and things didn't work out, would we be able to divorce in Heaven?"
St Peter's response suggested that he was irritated by Patrick's question, as he slammed his clipboard angrily on the ground.
"St Peter, what's the matter?" Bernadette enquired.
"Oh, for Heaven's sake!" said St Peter. "It's taken me almost three months to find a priest here in Heaven. Do you have any idea how long it will take me to find a lawyer?"
2. Age problems:
Jim was 85 years old and he'd been playing golf every single day since he'd retired from work 20 years earlier.
One day Jim arrives home from golf and he's obviously in an agitated state.
"What's the matter dear?" his wife, Mabel enquired.
"I'm going to give up golf", Jim responded. "My eyesight is now so bad that once I hit the ball I just can't see where it's gone."
Mabel can see Jim's really upset so she tries to be as sympathetic as possible.
"Oh don't worry dear. Let me make you a nice cup of coffee. You'll feel better after that I'm sure", she says.
As they both sit down with their coffee, Mabel says suddenly, "Hey, I've got an idea. Next time you play golf you could take my brother Sid with you."
"But Mabel, how will that help?" says Jim, "Sid is 98!"
"Yes", says Mabel, "but he still has perfect eyesight. He can be your eyes when you play."
So Jim agrees it's probably worth a try and he makes arrangements with Sid for the next day.
The next day Jim heads off to the country club with Sid.
At the first tee, Jim tees up with an almighty swing and he then squints down the fairway trying to see where his ball has gone.
"Sid, did you see where my ball went?" asks Jim.
"Sure!" says Sid. "I still have perfect eyesight."
Jim waited momentarily, anticipating some further information from Sid but he got nothing.
"So where did it go then?" asks Jim.
Sid looked at him a little confused and then said, "Where did what go?"
3. One kiss:
Alice was an attractive young woman and she was shopping in a department store looking to buy material for a dress she was making.
At the fabric counter, she spotted some suitable material and said to the young male clerk behind the counter, "What's the cost of this material please?"
"Well miss the price for that is just one kiss per yard," replied the clerk, with a confident grin on his face.
"That's fine," said Alice. "I'll take ten yards please."
Well, the clerk couldn't believe his luck. He quickly measured out the cloth, folded it carefully, wrapped it up, then teasingly held the package out to Alice.
She in turn accepted the package, smiled and then, pointing to the elderly man behind her, she said, "My grandpa will settle the bill."
And with that, she proceeded to browse at the next counter.
Please share this post with your friends:
If you enjoyed these hilarious short story jokes dear reader then please share them on social media with your friends.
Share the fun and everyone wins.
Put a smile on someone else's face and you've done your good deed for the day. So go on, share now.
And if you fancy some more laughs then click on the links below. You'll find plenty to make you smile.
Other articles that might appeal to you:
Copyright © Mann Island Media Limited 2021. All Rights Reserved.
(Visited 3,624 times, 369 visits today)