If you're looking for some witty jokes that will make you laugh, then I've got six good ones here for you to enjoy today. Enjoy them all and please feel free to pass them on.
Witty Jokes:
1. Rumblings in the night:
Bob was an American businessman on his first trip to London. He was really excited about the trip because he'd been invited to stay in a large stately home by the wealthy aristocratic family with whom he was doing business.
He was shown his room by his host and he couldn't help but be seriously impressed. The room was very grand and spacious with a wonderful view. It also had an enormous wardrobe and a fabulous en-suite bathroom.
After a large evening meal and quite a few drinks with his host, Bob staggered back to his room late, feeling jet-lagged and a little tipsy, and immediately fell on his bed, still in his business suit. He was sound asleep within seconds. 
However, at about 4 am Bob was awakened suddenly by an urgent feeling that an uncontrollable bowel movement was imminent. The intestinal pressure was such that he realised he needed to move fast.
Despite feeling a little disoriented, he jumped off his bed in a flash but there was no time for switching on the lights. 
He could barely get to the bathroom quick enough. Struggling to get his trousers down, he burst through the door and probed around with his hands in the dark trying to locate the toilet.
However, his bowels couldn't contain the pressure any longer and a foul-smelling, intestinal load was dumped uncontrollably on the floor.
His brain struggled to come to terms with his surroundings and what had just happened.  Well, he thought, at least it couldn't get any worse. 
Then he realised that he was standing in the walk-in wardrobe. 
2. Presence of mind:
Jim's wife accused him of hating all her family and relatives.
"Now, that's not true," said Jim.
"Then give me an example of a relative of mine that you actually like," his wife, Jane responded.
"Well, for a start I like your mother-in-law much more than I like mine," said Jim.  
3. Unintended consequences: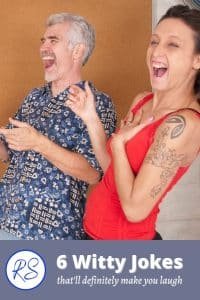 Rick's wealthy father was in such poor health that he had no more than a couple of months to live. Recognising that he would soon inherit his father's fortune, Rick decided it was time for him to find himself a good woman with whom he could enjoy a wealthy lifestyle.
So, one evening he visited a singles bar, where he immediately spotted a very beautiful woman, sitting alone at a table in the corner.
This woman was truly stunning and Rick couldn't help being mesmerised by her beauty.
He walked over to her table and said, "Mam, I may not be the best-looking guy in this bar but within a few months I will inherit a $100 million fortune, as sadly my wealthy father's dying."
The woman was so impressed that she went home with Rick that evening.
Two weeks later she became Rick's stepmother.
4. The ageing mind:
An old man named Bill realised that he needed to use the toilet.
So he got up and walked across the house to the pantry.
He couldn't remember why he'd gone to the pantry but he did remember that he needed to go to the toilet.
So he walked back across the house to the bathroom.
As he sat down on the throne, only then did he remember why he'd gone to the pantry.
Toilet paper!
5. How many wives:
Two little boys, Tim and Jerry, were at a wedding when Tim asked Jerry, "How many wives can a man have?"
To which, Jerry responded, "Sixteen!"
 "Sixteen?" Tim asked. "How did you work that out?"
"Well," said Jerry, "the priest has just said, four better, four worse, four richer and four poorer. So four times four is sixteen."
6. Lateral thinking:
Four old High School buddies were on a road trip, staying in motels along the way. Naturally, to keep the cost down they'd just book two rooms and then share.
The problem was, no one wanted to share with Bob because they all knew he snored so loudly.
To make it fair, Tom, Dick and Harry agreed that they would take it in turns to spend the night in a room with Bob.
On the first night, Tom shared the room with Bob.
The following morning Tom arrived at breakfast, looking completely shattered.
"What happened to you?" asked Dick.
"Oh, it was awful," said Tom. "Bob snored so loudly, I just sat up all night and watched him."
The next night it was Dick's turn to share with Bob.
The following morning Dick arrived at breakfast looking tired and his eyes were all bloodshot.
"Man, you look shattered," said Tom. "I'm guessing Bob was making a lot of noise in the night?"
"Jeez," said Dick, "He was making enough noise to wake the dead. I was awake all night just watching him."
On the third night, it was Harry's turn to share with Bob.
Harry was a wily old cowboy and a real man's man. 
The next morning Harry arrived at breakfast looking bright-eyed, fresh and well-rested. 
"Good morning guys," said Harry.
Tom and Dick couldn't believe their eyes.
"How did you manage to sleep?" asked Tom.
"Well," said Harry, "we got ready for bed, I went and tucked Bob in, then I kissed him goodnight. And he sat up all night watching me."
Please share this post with your friends:
If you enjoy witty jokes, dear reader, then I hope some of these made you laugh.
Perhaps you'd like some more laughs? If so, please click on the links below.
And if you did enjoy this post then please share it with your friends on social media. When you share witty jokes, surely everyone's a winner?
Your support is truly appreciated.
Thank you.
Other articles that might appeal to you:
Copyright © Mann Island Media Limited 2022. All Rights Reserved.