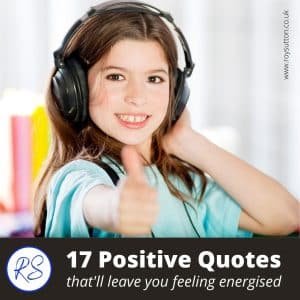 Do you enjoy positive quotes?
Perhaps you're looking for something either because you're in need of a little inspiration personally or because you have an audience to inspire?
Possibly you have a presentation to prepare and consequently, you're in need of some positive quotes to reinforce the points you wish to make?
Words have power:
Words are powerful and positive quotes can have great power.
As a result, they can lift you and they can lift an audience too when chosen well. Yet the power of words is not always appreciated in the way it should be.
Therefore here are some positive quotes that I'm confident will inspire you and they will rock any presentation in which they're used.
So please feel free to quote any of them if you feel they'll help. However, always acknowledge the author when known.
Words of wisdom:
All of these words of wisdom will make you think and they will make any audience think as well.
Life can be hard of course and achieving success can be harder. However, it can be done and people do. You just have to believe in yourself. A little help from some positive quotes won't hurt though.
So read these positive quotes and inspirational words from so many of the great thinkers and they might just propel you in the direction of the success you desire.
If they do help you in your quest, I'd be interested to hear your feedback. Feedback from readers is always appreciated.
Positive Quotes:
Live your life in the creative space and go where others have not yet been; to the fields, the grazing cows have yet to find. ~Alan Alda
It is not enough to exist, you must LIVE. It is not enough to survive, you must THRIVE. It is not enough to care, you must COMMIT. It is not enough to seek success, you must seek SIGNIFICANCE. It is not enough to live long, you must LIVE WELL. ~Michael Josephson
Life is too short to waste it doing nothing. Make every day count! We don't know when we will leave this world, so cherish every moment you have with loved ones. Never regret anything because everything happens for a reason. Enjoy every day and smile. Life is what you make it. ~Author Unknown
What we have done for ourselves dies with us; what we have done for others and the world remains and is immortal. ~Albert Pike
You can have brilliant ideas, but if you can't get them across, your ideas won't get you anywhere. ~Lee Iacocca
Gold medals aren't really made of gold. They're made of sweat, determination, and a hard-to-find alloy called guts. ~Dan Gable
The greatest advantage of speaking the truth is that you don't have to remember what you said. ~Mark Twain
The problem is not that there are problems. The problem is expecting otherwise and thinking that having problems is a problem. ~Theodore Rubin
What I have learned is that a whole lot of people with degrees don't know a damn thing, and a lot of people with no degrees are brilliant. ~John Henrik Clarke
The purpose of education is to replace an empty mind with an open one. ~Malcolm Forbes
Self-pity is a losing strategy. It repels others and weakens you. ~Michael Josephson
On days when I don't work, I am working on maintaining my image, just like an athlete. ~Linda Evangelista
Don't judge each day by the harvest you reap but by the seeds that you plant. ~Robert Louis Stevenson
One of the deep secrets of life is that all that is really worth doing is what we do for others. ~Lewis Carroll
Even the greatest was once a beginner. Don't be afraid to take that first step. ~Author Unknown
We cannot change the cards we are dealt; just how we play the hand. ~Randy Pausch
Whatever age you are, you've always got a contribution to make and new experiences still to enjoy. Retire from paid employment perhaps but never retire from life. ~Roy Sutton
Please share these quotes with your friends:
If you found these positive quotes inspiring and interesting, please share this post on social media with your friends. When you share, everyone wins.
So go on, please share this post now. If you can do that for me, I'll be ever so grateful.
Thank you for your support.
Other articles that might appeal to you:
Copyright © Mann Island Media Limited 2022. All Rights Reserved.
(Visited 776 times, 43 visits today)