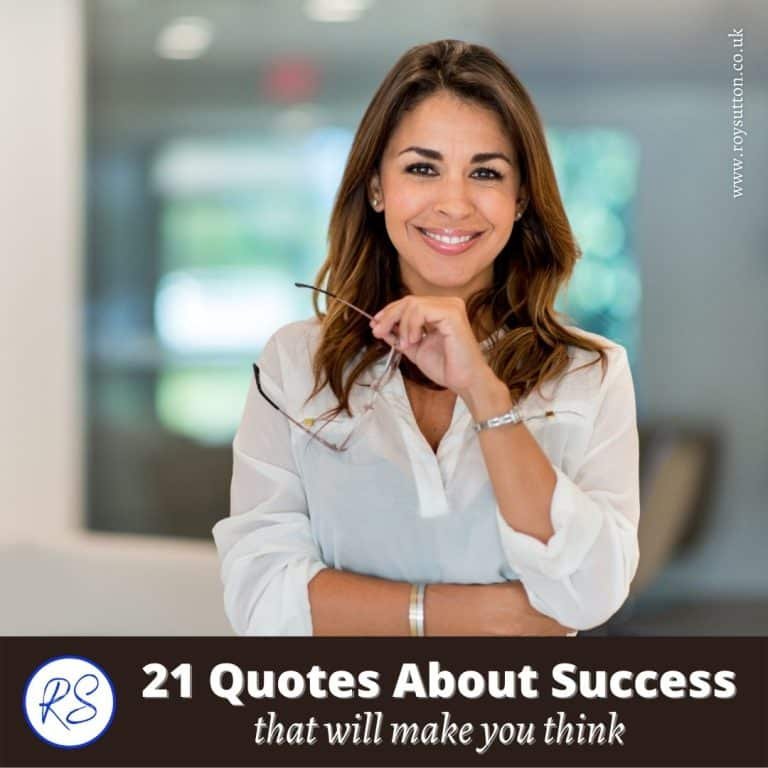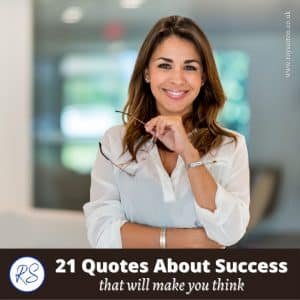 Many people say they want to be successful but few achieve success in any meaningful way.
That said, one person's success is another person's failure.
In fact, we all have different ideas about what constitutes success.
For some people, it's all about owning a million-dollar mansion, whereas for others just being happy and contented would be their measure of success.
What does success mean to you?
There are 21 thought-provoking quotes about success in today's post to help you reflect on what success actually means to you.
However you choose to define success, it is possible to get to where you'd like to be with effort and determination.
Just decide where you want to go and don't stop until you get there; though not before you've read today's thought-provoking quotes about success.
Not only are they thought-provoking, but you should find them motivating and inspirational too, dear reader. I hope so, anyway.
Quotes about success:
Amateurs sit and wait for inspiration, the rest of us just get up and go to work. ~Stephen King
Success is not the key to happiness. Happiness is the key to success. If you love what you are doing, you will be successful. ~Herman Cain
Do not be embarrassed by your failures, learn from them and start again. ~Richard Branson
Victory is sweetest when you've known defeat. ~Malcolm S. Forbes
The best years of your life are the ones in which you decide your problems are your own. You do not blame them on your mother, the ecology, or the president. You realize that you control your own destiny. ~Albert Ellis
You've got to get up every morning with determination if you're going to go to bed with satisfaction. ~George Lorimer
If you want to make an easy job seem mighty hard, just keep putting off doing it. ~Olin Miller
The successful man is the one who finds out what is the matter with his business before his competitors do. ~Roy L. Smith
Love yourself first and everything else falls into line. You really have to love yourself to get anything done in this world. ~Lucille Ball
Success is not measured by what you accomplish, but by the opposition you have encountered, and the courage with which you have maintained the struggle against overwhelming odds. ~Orison Swett Marden
You have to learn the rules of the game. And then you have to play better than anyone else. ~Albert Einstein
Things may come to those who wait, but only the things left by those who hustle. ~Abraham Lincoln
Don't let what you cannot do interfere with what you can do. ~John R. Wooden
Spend eighty per cent of your time focusing on the opportunities of tomorrow rather than the problems of yesterday. ~Brian Tracy
Success means having the courage, determination, and will to become the person you believe you were meant to be. ~George Sheehan
The secret to success in life is for a man to be ready for his opportunity when it comes. ~Benjamin Disraeli
There are two types of people who will tell you that you cannot make a difference in this world: those who are afraid to try and those who are afraid you will succeed. ~Ray Goforth
Don't wait. The time will never be just right. ~Napoleon Hill
You can teach a student a lesson for a day; but if you can teach him to learn by creating curiosity, he will continue the learning process as long as he lives. ~Clay P. Bedford
The first step toward success is taken when you refuse to be a captive of the environment in which you first find yourself. ~Mark Caine
Success is the sum of small efforts, repeated day-in and day-out. ~Robert Collier
Please share this post with all your friends:
Did you find these thought-provoking quotes about success interesting?
If you did then perhaps they might interest others you know too?
Please share them with your friends on social media because when you share, everyone wins. Do it now and I'll be ever so grateful.
Thank you.
Other articles that might appeal to you:
Copyright © Mann Island Media Limited 2022. All Rights Reserved.