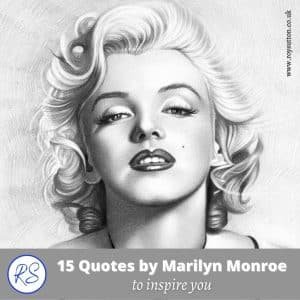 Marilyn Monroe was a big star in her day, and much has been said and written about her since her death. Some of it was true but mostly it was just a myth.
However, despite her untimely death, the legend that is Marilyn Monroe lives on to this day. She died tragically young and in rather sad circumstances.
Nevertheless, she was much smarter than she appeared to be and many of her observations are actually quite sharp and funny.
The 15 quotes by Marilyn Monroe included here I think will prove this point.
The quotes attributed to Marilyn Monroe illustrate her grasp of what it was to be a woman in what was then very much a man's world. In many ways for women, the life experience has changed very little, so her observations should serve as a source of inspiration for women everywhere, even now.
Here are the 15 quotes by Marilyn Monroe. I'd welcome your comments on them but not before you've taken a couple of minutes to enjoy them.
Quotes by Marilyn Monroe:
Please share this post with your friends:
If you enjoyed these quotes by Marilyn Monroe, please share this post with your friends on social media. When you share, everyone wins.
If you could share this post now then I'd really appreciate it. You'd be helping a keen blogger reach a wider audience.
Thank you.
Other articles that might appeal to you:
Copyright © Mann Island Media Limited 2022. All Rights Reserved.
(Visited 1,355 times, 21 visits today)