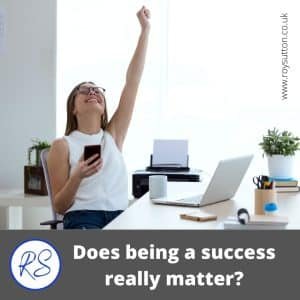 Do your work with your whole heart and you will succeed; there's so little competition. ~Elbert Hubbard
So many people are just trying to get through life with as little effort as possible.
Now that's fair enough if that's what you want. Then again, do nothing and you'll get nothing and you'll be nothing.
Again, maybe you don't care. Maybe a stress-free life is much more important to you than being driven to achieve. And that's a reasonable choice to make.
However, we all have enormous potential.
We can all make our mark and make a real contribution to life and the people who matter most to us.
If you want more out of life, then success really is there for the taking.
Yes, it requires a lot of hard work and you will need to hone your skills until you are one of the best at what you do. However others do it, so why not you?
Why shouldn't you make a real difference?
If you can continually focus on your desired outcome then you can and will succeed.
Go the extra mile and you'll reach a place worthy of the effort you've expended. And remember, there's very little traffic on the extra mile.
There really is far less competition than you think. For most people, the required effort is just far too much.
So go on, go for it. You're as good as anyone and better than most. Believe you can and you will.
Being a success does matter because you have enormous potential and the world needs all the potential it can get. The world needs people just like you to make a real difference.
Please share this post with your friends:
If you found this article useful then please share it on social media with your friends. When you share, everyone wins.
So go on, please share it now. If you do I'll be ever so grateful and you'll be helping a keen blogger reach a wider audience.
Thank you for your support.
Other articles that might appeal to you:
Copyright © Mann Island Media Limited 2022. All Rights Reserved.
(Visited 141 times, 23 visits today)