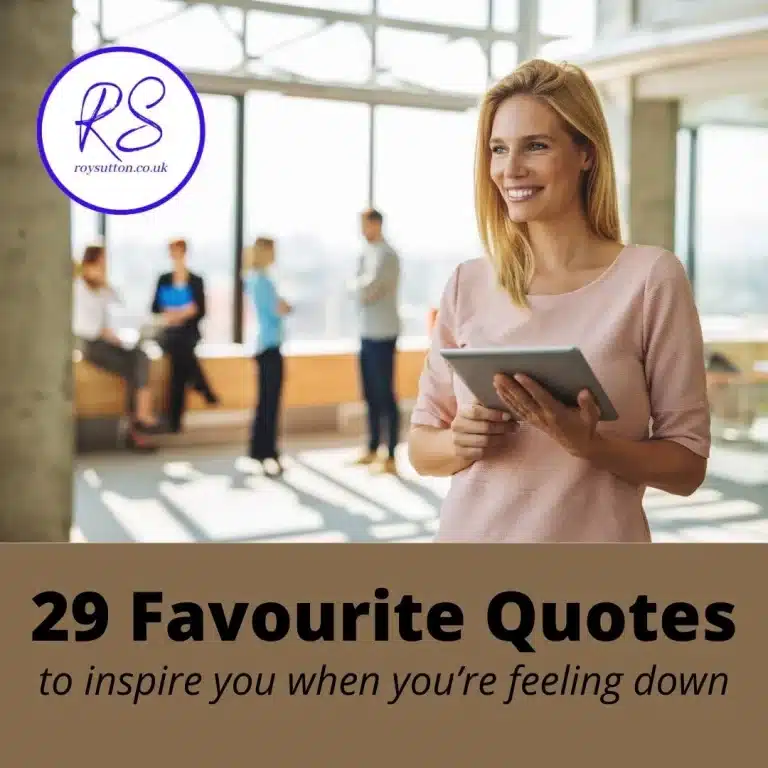 Quotes can be such a source of inspiration, especially when we're feeling a little down. When everything's not quite going in the way we'd like, it's helpful to reflect on the wisdom of successful people.
Successful people weren't always successful. They started out as ordinary people with a dream and a determination to follow that dream and take it as far as they could.
And in getting to where they are they'll have met many obstacles along the way and at times they too will have felt a little down.
No one has it that easy. The only difference is that successful people keep going. They never give up.
Successful people make sure they have a source of inspiration for when they need it. They always have something to lift them when times get tough.
When I'm feeling a little down I love to reflect on inspirational quotes. I love them.
Here are 29 of my favourite quotes that certainly inspire me when I'm in need of a lift.
Favourite quotes (1-10):
Favourite quotes (11-20):
It takes courage to grow up and turn out to be who you really are. ~E. Cummings
What the world needs is more geniuses with humility, there are so few of us left. ~Oscar Levant
For me, money is not my definition of success. Inspiring people is a definition of success. ~Kanye West
Nothing will ever be attempted if all possible objections must first be overcome. ~Samuel Johnson
Do not be afraid to ask dumb questions; they are easier to handle than dumb mistakes. ~Author Unknown
You can never cross the ocean unless you have the courage to lose sight of the shore. ~Christopher Columbus
The biggest mistake people make in life is not trying to make a living at doing what they most enjoy. ~Malcolm Forbes
The only way to do great work is to love what you do. If you haven't found it yet, keep looking. Don't settle. ~Steve Jobs
That's precisely the question everyone should be asking—why the hell not? Why not you, why not now? ~Timothy Ferriss
Use what talents you possess. The woods will be very silent if no birds sang except those that sang best. ~Henry Van Dyke
Favourite quotes (21-29):
Please share these quotes with your friends:
If you found these quotes interesting then please share this post on social media with your friends. When you share, everyone wins.
So go on, please share it now.
If you do, I'll be ever so grateful and you'll be helping a keen blogger reach a wider audience.
Thank you.
Other articles that might appeal to you:
Copyright © Mann Island Media Limited 2021. All Rights Reserved.