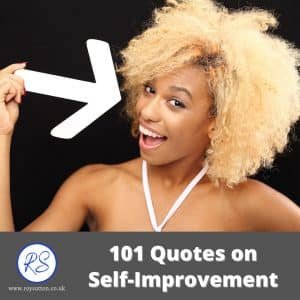 In seeking quotes on self-improvement, perhaps you're looking for a better life.
Well, life doesn't have to be as it is now. It can be something much closer to what you'd like it to be. And with a little effort on your part, you can make it happen.
Remember you're not defined by your past. That serves only as a series of lessons. The future is yours to create and it all starts with self-improvement.
Self-improvement is just a process whereby you decide what it is you want; you decide what skills you'll need to develop in order to get what you want; you work out how you can get those skills, and then you set some goals and start improving the quality of your life and that of your loved ones.
It can be done. People do it all the time. And so can you.
Learn more and you'll earn more.
You'll need a little inspiration to motivate you and keep you going. Motivational quotes are useful because they help you acquire ideas on getting started and they're beneficial in helping you realize your dreams and goals.
So here are 101 quotes on self-improvement to inspire you and propel you along the road to make your dreams a reality.
Enjoy them all and please share them with your friends.
Quotes on self-improvement (1-20):
Quotes on self-improvement (21-40):
Quotes on self-improvement (41-55):
The first step in solving a problem is to recognize that it does exist. ~Zig Ziglar
Getting in touch with your true self must be your first priority. ~Tom Hopkins
Too many of us are not living our dreams because we are living our fears. ~Les Brown
You don't have to be great to start, but you have to start to be great. ~Zig Ziglar
The best preparation for tomorrow is doing your best today. ~H. Jackson Brown, Jr.
Success is nothing more than a few simple disciplines, practised every day. ~Jim Rohn
Setting goals is the first step in turning the invisible into the visible. ~Tony Robbins
I never see failure as failure, but only as the game I must play and win. ~Tom Hopkins
Perseverance is not a long race; it is many short races one after the other. ~Walter Elliot
The difference between being mediocre and achieving excellence is you. ~Stephen Richards
Become addicted to constant and never-ending self-improvement. ~Anthony J. D'Angelo
The will to succeed is important, but what's more important is the will to prepare. ~Bobby Knight
If you always do what you've always done, you'll always be where you've always been. ~TD Jakes
How dare you settle for less when the world has made it so easy for you to be remarkable? ~Seth Godin
You are essentially who you create yourself to be, and all that occurs in your life is the result of your own making. ~Stephen Richards
Quotes on self-improvement (56-70):
Opportunity does not knock it presents itself when you beat down the door. ~Kyle Chandler
Don't compare yourself to others. Compare yourself to the person you were yesterday. ~Anonymous
When you play it too safe, you're taking the biggest risk of your life. Time is the only wealth we're given. ~Barbara Sher
Ever tried. Ever failed. No matter. Try Again. Fail again. Fail better. ~Samuel Beckett
Decide what you want, decide what you are willing to exchange for it. Establish your priorities and go to work. ~H. L. Hunt
You simply have to put one foot in front of the other and keep going. Put blinders on and plough right ahead. ~George Lucas
Life is a gift, and it offers us the privilege, opportunity, and responsibility to give something back by becoming more. ~Tony Robbins
I've found that luck is quite predictable. If you want more luck, take more chances. Be more active. Show up more often. ~Brian Tracy
Knowing is not enough; we must apply. Willing is not enough; we must do. ~Johann Wolfgang von Goethe
Change your life today. Don't gamble on the future, act now, without delay. ~Simone de Beauvoir
A strong, positive self-image is the best possible preparation for success. ~Joyce Brothers
If you're not making mistakes, then you're not doing anything. I'm positive that a doer makes mistakes. ~John Wooden
Believe that life is worth living and your belief will help create the fact. ~William James
I can't change the direction of the wind, but I can adjust my sails to always reach my destination. ~Jimmy Dean
Perfection is not attainable, but if we chase perfection we can catch excellence. ~Vince Lombardi
Quotes on self-improvement (71-85):
Don't judge each day by the harvest you reap but by the seeds that you plant. ~Robert Louis Stevenson
There's only one corner of the universe you can be certain of improving, and that's your own self. ~Aldous Huxley
I hated every minute of training, but I said, 'Don't quit. Suffer now and live the rest of your life as a champion.' ~Muhammad Ali
Even if I knew that tomorrow the world would go to pieces, I would still plant my apple tree. ~Martin Luther
Your present circumstances don't determine where you can go; they merely determine where you start. ~Nido Qubein
Put your heart, mind, and soul into even your smallest acts. This is the secret to success. ~Swami Sivananda
Opportunity is missed by most people because it is dressed in overalls and looks like work. ~Thomas A. Edison
Opportunities are usually disguised as hard work, so most people don't recognize them. ~Ann Landers
Nothing ever comes to one that is worth having, except as a result of hard work. ~Booker T. Washington
Formal education will make you a living; self-education will make you a fortune. ~Jim Rohn
Become addicted to constant and never-ending self-improvement. ~Anthony J. D'Angelo
The major value in life is not what you get. The major value in life is what you become. ~Jim Rohn
Outstanding people have one thing in common: An absolute sense of mission. ~Zig Ziglar
It doesn't matter where you are coming from. All that matters is where you are going. ~Brian Tracy
If there is one lesson I've learned from failure and success, it's this. I am not the outcome. I am never the result. I am only the effort. ~Kamal Ravikant
Quotes on self-improvement (86-95):
Quotes on self-improvement (96-101):
Please share with your friends:
So dear reader, did you enjoy these quotes on self-improvement? Was this post worth a little piece of your time? I do hope so.
If you did enjoy this post then please share it with your friends on social media.
When you share, everyone wins.
So go on, please share this post now and you'll be making an old blogger very happy.
Thank you.
Articles that might appeal to you:
Copyright © Mann Island Media Limited 2022. All Rights Reserved.
(Visited 39 times, 8 visits today)