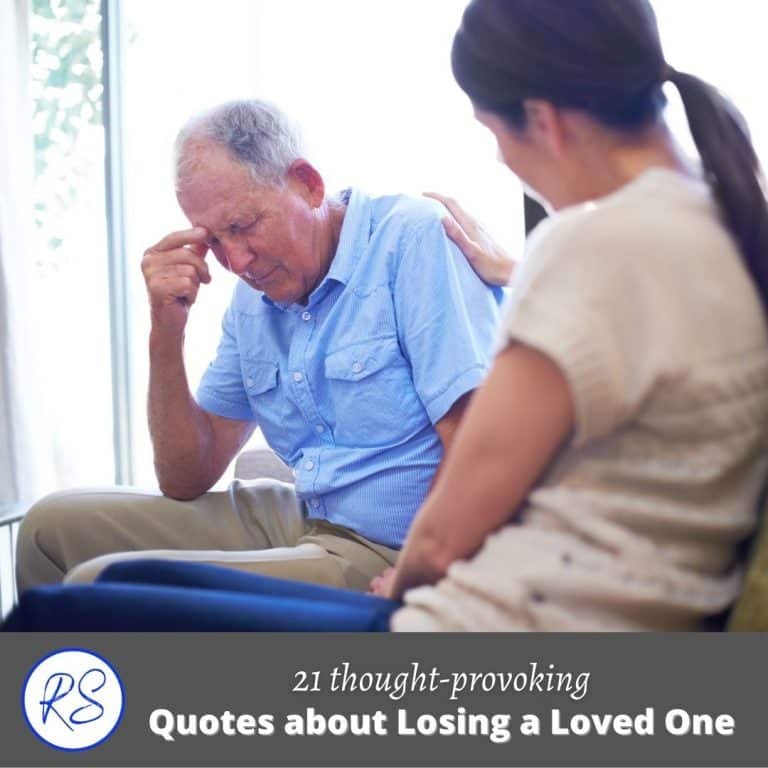 When you lose a loved one, it's one of the toughest things to deal with in life. Certainly, that's been my experience.
Suddenly you have someone so dear wrenched from your life and you know you will never see or speak to them again. It's very hard.
What you'd give to sit with them one more time and tell them how much they meant to you.
If only you could have a laugh with them once again and share a drink or a meal.
How you'd love to talk with them about happy times and the absurd things in life that drive you nuts. To share your troubles with that special person who was always there with a supportive ear.
If you've yet to lose a loved one you cannot appreciate how it feels.
However, readers who've experienced such loss will know exactly what I mean.
And one day, every reader will know how it feels. Loss touches us all at some point in our lives.
Here are 21 thought-provoking quotes about losing a loved one to help you reflect on life's greatest challenge.
And if you have lost a loved one then remember this; if you close your eyes and think of them then they'll always be there in your mind's eye.
Their physical presence may not be with you anymore but their spirit will live on and their memory will be forever in your heart.
For as long as you remember them they can never be truly gone.
Quotes about losing a loved one:
A man is not dead while his name is still spoken. ~Terry Pratchett
Come back. Even as a shadow, even as a dream. ~Euripides
Death is never easy when you know the people doing the dying. ~Oliver North
If you have ever lost a loved one, then you know exactly how it feels. And if you have not, then you cannot possibly imagine it. ~Lemony Snicket
Say not in grief he is no more, but live in thankfulness that he was. ~Hebrew Proverb
Grief is in two parts. The first is loss. The second is the remaking of life. ~Anne Roiphe
My feet will want to walk to where you are sleeping but I shall go on living. ~Pablo Neruda
Lucky is the spouse who dies first, who never has to know what survivors endure. ~Sue Grafton
You don't know how easy death is. It's like a door. A person simply walks through it, and she's lost to you forever. ~Eloisa James
It takes a minute to find a special person, an hour to appreciate them, and a day to love them, but it takes an entire lifetime to forget them. ~Author Unknown
The song has ended but the melody lingers on. ~Irving Berlin
If tears could build a stairway and memories a lane, I'd walk right up to Heaven and bring you home again. ~Author Unknown
But she wasn't around, and that's the thing when your parents die, you feel like instead of going into every fight with backup, you are going into every fight alone. ~Mitch Albom
Losing people you love affects you. It is buried inside of you and becomes this big, deep hole of ache. It doesn't magically go away, even when you stop officially mourning. ~Carrie Jones
The weird thing about devastating loss is that life actually goes on. When you're faced with a tragedy, a loss so huge that you have no idea how you can live through it, somehow, the world keeps turning, and the seconds keep ticking. ~James Patterson
We bereaved are not alone. We belong to the largest company in the world; the company of those who have known suffering. ~Helen Keller
It is the capacity to feel consuming grief and pain and despair that also allows me to embrace love and joy and beauty with my whole heart. I must let it all in. ~Anna White
The few certainties in our existence are pain, death, and bereavement. ~Jane Wilson-Howarth
I still miss those I loved who are no longer with me but I find I am grateful for having loved them. The gratitude has finally conquered the loss. ~Rita Mae Brown
We can endure much more than we think we can; all human experience testifies to that. All we need to do is learn not to be afraid of pain. Grit your teeth and let it hurt. Don't deny it, don't be overwhelmed by it. It will not last forever. One day, the pain will be gone and you will still be there. ~Harold Kushner
I know for certain that we never lose the people we love, even to death. They continue to participate in every act, thought, and decision we make. Their love leaves an indelible imprint in our memories. We find comfort in knowing that our lives have been enriched by having shared their love. ~Leo Buscaglia
Please share this post with all your friends:
Did you find these thought-provoking quotes about losing a loved one interesting?
If you did then perhaps they might interest others you know too?
Please share them with your friends on social media because when you share, everyone wins. Do it now and I'll be ever so grateful.
Thank you.
Other articles that might appeal to you:
Copyright © Mann Island Media Limited 2022. All Rights Reserved
(Visited 1,198 times, 67 visits today)