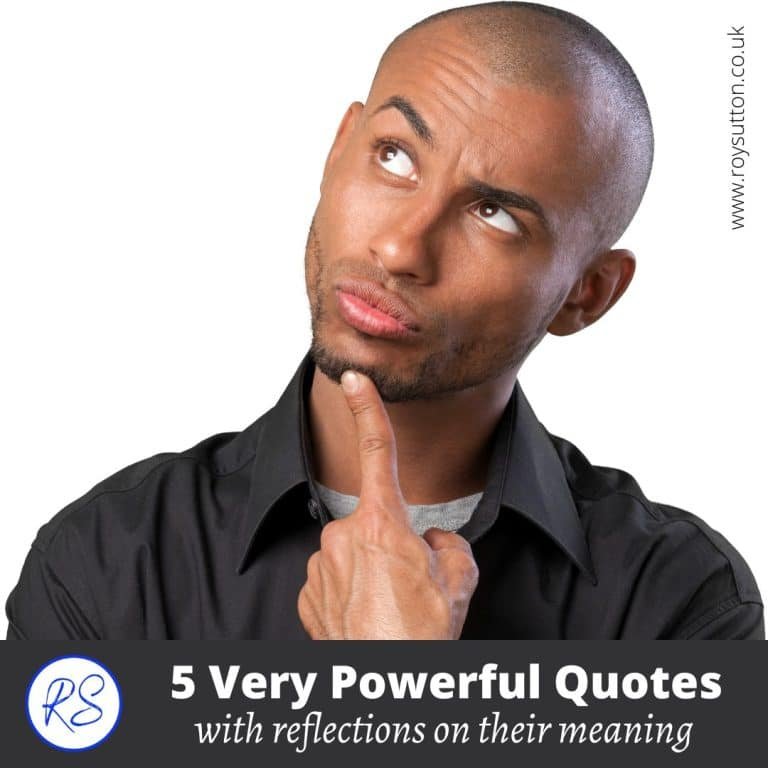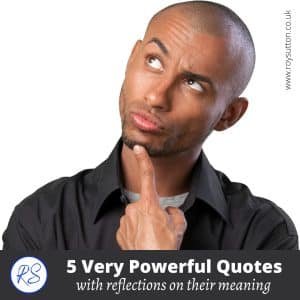 If you're looking for some very powerful quotes, dear reader, then I have some great ones for you today. More importantly, I offer you some of my own reflections on what they really mean.
I hope you find them interesting, Certainly, I did.
Please feel free to pass them on to your friends.
Very Powerful Quotes:
1. Anything worth doing is worth doing poorly until you learn to do it well.

~Zig Ziglar
Even the greatest exponents of any skill you care to mention started out as complete beginners. That's a fact.
Whether it's a great footballer player like Cristiano Ronaldo or a Rock guitar god like Jimmy Page, they all had to start somewhere.
In the beginning, they wouldn't have produced anything special I am sure.
However, dedication to their craft and a determination to hone their skills took them from being ordinary to quite extraordinary.
To be really good, talent helps of course. However, nothing matches dedication and determination, if you are to excel at what you do.
If you want to be the best you've got to get started and then it's all about practice, practice and more practice.
Before you can be the best you've got to pay your dues first.
The very best people will have spent thousands of hours developing their skills long before entering the public's consciousness.
People who succeed have paid their dues and earned their success.
You don't get anything for nothing.
What you get out is in direct proportion to what you put in.
That's the first law of achievement.
2. You're never too old to set another goal or to dream a new dream.

~C.S. Lewis
Age is just a number. It doesn't have to be a constraint on your life.
You're not on the scrapheap just because you've reached 50 or 60 or 70 or whatever.
You can still learn something new and there are still places to go and explore.
Perhaps you're too old to play for Liverpool FC but that doesn't mean you couldn't get involved in football (or soccer as many prefer to call it) in some way.
You may never be able to play the guitar like Jimmy Page or Eric Clapton but that doesn't mean you couldn't learn to play a musical instrument.
You may never win an Oscar but that doesn't mean you couldn't get involved in amateur dramatics.
And you may never outsell JK Rowling but that doesn't mean you couldn't write a book and get it published, or at least self-published.
With the Internet, eBooks and social media, the opportunities for making your name have never been greater.
Today you can write an eBook, self-publish and sell it on Amazon. I'm told that's exactly how EL James of 50 Shades of Grey fame got started.
If a book seems to be a big step, then how about writing a blog?
WordPress is fairly easy to master. I spent $100 on a one-day course to learn WordPress and I've never looked back.  And of course, knowing WordPress, you can set up a blog easily and very quickly.
One of the advantages of age is that you've learned a lot along the way. So you can share your wisdom and experience.
You can make a real contribution if you want to.
So why not have a go?
It's never too late to become the person you really could be.
You've got a lot to offer. Don't keep it all to yourself. That would be such a waste and there's still an opportunity to leave a legacy.
3. With the new day comes new strength and new thoughts.

~Eleanor Roosevelt
Yesterday's dead and gone. However good or bad it was, it's now nothing more than a footnote in history.
So leave the past where it belongs, in the past.
Today is different.
At the beginning of a new day, anything is possible.
Learn from the past of course but don't dwell on your mistakes, your bad luck or disappointing outcomes you wish had been different.
You can't change the past, so focus on what can be achieved today and in the future.
Take strength from the present and think positive thoughts.
A positive mental attitude will carry you further than you think.
Remember: You'll never have today again, so make sure you enjoy it.
4. Be miserable or motivate yourself. Whatever has to be done, it's always your choice.

~Wayne Dyer
Now life may have been mean to you dear reader but so what? The reality is that life's been mean to a lot of people.
However much life's let you down, you'll find that no one's impressed by self-pity. No one wants to go to a pity party.
Self-pity's an unattractive quality, to say the least.
Everyone's struggling with their own lives, so they don't need your misery to bring them down even further.
If you want to be appreciated then you have to be positive.
It all comes down to the choice you make. It's better that you add something to the lives of other people, rather than take something away.
You can choose to ignore your troubles and be positive, or not.
It's a fact that your outlook, sunny or otherwise, will have an impact on how you're treated by other people.
Cheer them up and they'll love you.
Make them feel depressed and they'll head for the hills the moment they see you.
So what are you going to be? Remember, it's a choice.
You can be the person who makes people smile when you enter a room.
Alternatively, you can be the person who makes people smile when you leave?
That choice is yours but I know which one I prefer.
5. The key is to keep company only with people who uplift you, whose presence calls forth your best.

~Epictetus
How often do other people put us down?
They belittle our ambitions and tell us we're getting above ourselves.
"You're not good enough for that," we'll hear people say.
"You don't have the brains or the talent," will be their next response.
Then you'll be told, "Oh people from your background can't do that, it's not for you."
Eventually, if you're not careful you start to believe it all.
And then you're destined for nothing more than a life of mediocrity, just like those people who were putting you down.
And that's the point.
The real issue is that they resent your ambition because they don't have any ambition or they lack the confidence to try anything new.
They dislike the idea of you going places and getting on in life because they've never achieved anything.
Their opinions are presented to you as well-meaning advice, of course. However, they're jealous, really.
They deliberately put you down in the hope that you won't achieve anything more than them.
So, don't be fooled.
Surround yourself only with people who encourage your ambitions.
People who will offer you guidance to help you get to where you want to go.
Don't allow negative people to put you off.
If you want to do something, then you have a go at it.
If you stick with it, you can succeed. Other people do, so why not you?
However, even if you don't, it's better to try and fail than never to have tried at all. At least you'll know for sure whether something was right for you or otherwise.
Don't allow the years to slip by with you wondering what might have been.
Believe in yourself and keep company only with positive people. The negative ones will just do your head in.
Please share this post with your friends:
So dear reader, was this post worth a little piece of your time? Did you enjoy reading it? Did you find the quotes inspirational?
If you did like it then please share this post with your friends on social media.
People love powerful quotes, so go on, please share this post now.
If you could share this post, I'd be ever so grateful and you'd be helping a keen blogger reach a wider audience.
Thank you.
Other articles that might appeal to you:
Copyright © Mann Island Media Limited 2022. All Rights Reserved.
(Visited 246 times, 28 visits today)