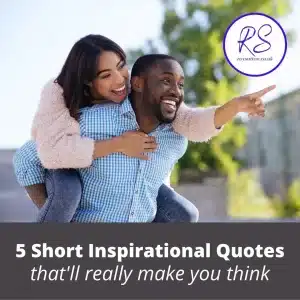 Today I offer you 5 short inspirational quotes which I'm confident will get you thinking about your life and what you want out of it.
Short inspirational quotes:
Don't judge each day by the harvest you reap but by the seeds that you plant. ~Robert Louis Stevenson
On days when I don't work, I am working on maintaining my image, just like an athlete. ~Linda Evangelista
I would perceive three years at university as a waste of time. I would have made £200,000 by then. ~Lord Sugar
You have to rule the money. Don't let the money rule you. ~Fil Adams-Mercer
Marriage is an investment that pays dividends if you pay interest. ~Bob Monkhouse
Please share these quotes with your friends:
Did you find these short inspirational quotes interesting, dear reader? Did they really make you think?
If they did then perhaps this blog post might interest others you know too?
Please share this post with your friends on social media because when you share, everyone wins.
And if you could share this post now, I would be ever so grateful.
Like every blogger, I can only keep doing what I do if there are readers viewing my blog posts. So you really can help me, dear reader.
Thank you.
Other articles that might appeal to you:
Copyright © Mann Island Media Limited 2022. All Rights Reserved.
(Visited 832 times, 11 visits today)