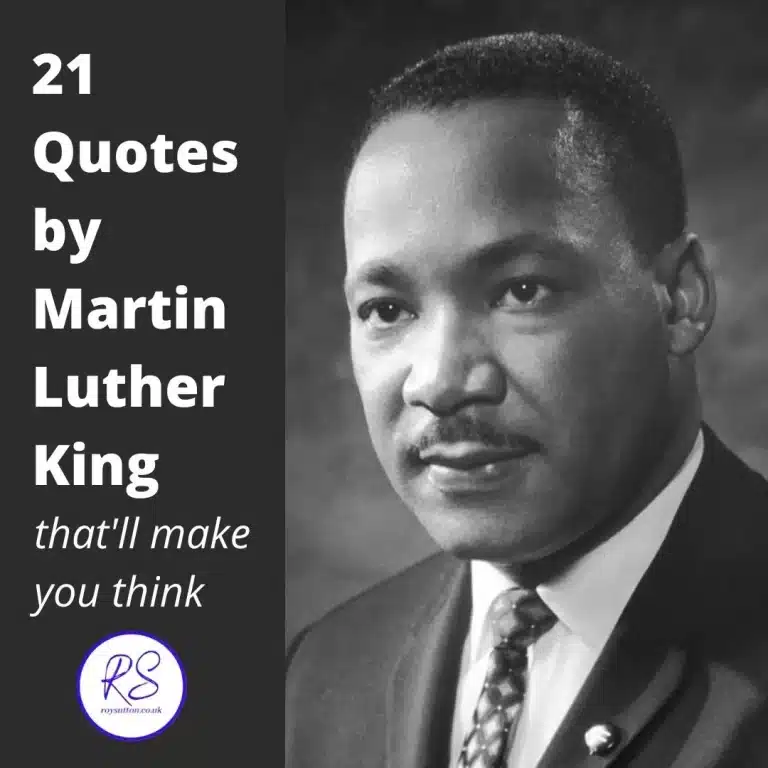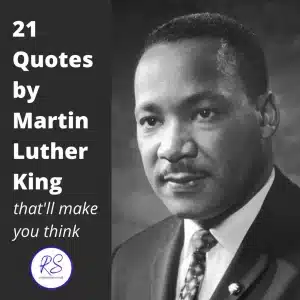 Synonymous with the civil rights movement in the United States, the late Martin Luther King Jr was its most visible spokesperson and leader.
He was one of the most influential figures of all time, I would argue, and his dignity and philosophy are all the more impressive given the unjust treatment people like him experienced at that time, and often still do.
Here are 21 quotes by Martin Luther King Jr which are guaranteed to make you think. Certainly, they made me think. 
Quotes by Martin Luther King Jr (1-11):
A right delayed is a right denied.
One has a moral responsibility to disobey unjust laws.
Forgiveness is not an occasional act; it is a constant attitude.
I have decided to stick with love. Hate is too great a burden to bear.
We must learn to live together as brothers or perish together as fools.
He who is devoid of the power to forgive is devoid of the power to love.
Faith is taking the first step even when you don't see the whole staircase.
Our lives begin to end the day we become silent about things that matter.
In the end, we will remember not the words of our enemies, but the silence of our friends.
Freedom is never voluntarily given by the oppressor; it must be demanded by the oppressed.
Let us not seek to satisfy our thirst for freedom by drinking from the cup of bitterness and hatred.
Quotes by Martin Luther King Jr (12-21):
Darkness cannot drive out darkness; only light can do that. Hate cannot drive out hate; only love can do that.
That old law about an eye for an eye leaves everybody blind. The time is always right to do the right thing.
Every man must decide whether he will walk in the light of creative altruism or in the darkness of destructive selfishness.
There is nothing more majestic than the determined courage of individuals willing to suffer and sacrifice for their freedom and dignity.
I came to the conclusion that there is an existential moment in your life when you must decide to speak for yourself; nobody else can speak for you.
The true measure of a man is not how he behaves in moments of comfort and convenience but how he stands at times of controversy and challenges.
I have a dream that my four little children will one day live in a nation where they will not be judged by the colour of their skin, but by the content of their character.
The ultimate measure of a man is not where he stands in moments of comfort and convenience, but where he stands at times of challenge and controversy.
He who passively accepts evil is as much involved in it as he who helps to perpetrate it. He who accepts evil without protesting against it is really cooperating with it.
You know, a lot of people don't love themselves. And they go through life with deep and haunting emotional conflicts. So the length of life means that you must love yourself. And you know what loving yourself also means? It means that you've got to accept yourself.
Please share this post:
Did you find these quotes by Martin Luther King Jr inspirational dear reader?
You did? I hope so.
If that is the case then please share this blog post with your friends on social media. When you share everyone wins.
So go on, please share this post now. If you can do that for me I really would be ever so grateful and you'll be helping a keen blogger reach a wider audience.
Thank you.
Other articles that might appeal to you:
Copyright © Mann Island Media Limited 2022. All Rights Reserved.
(Visited 535 times, 11 visits today)