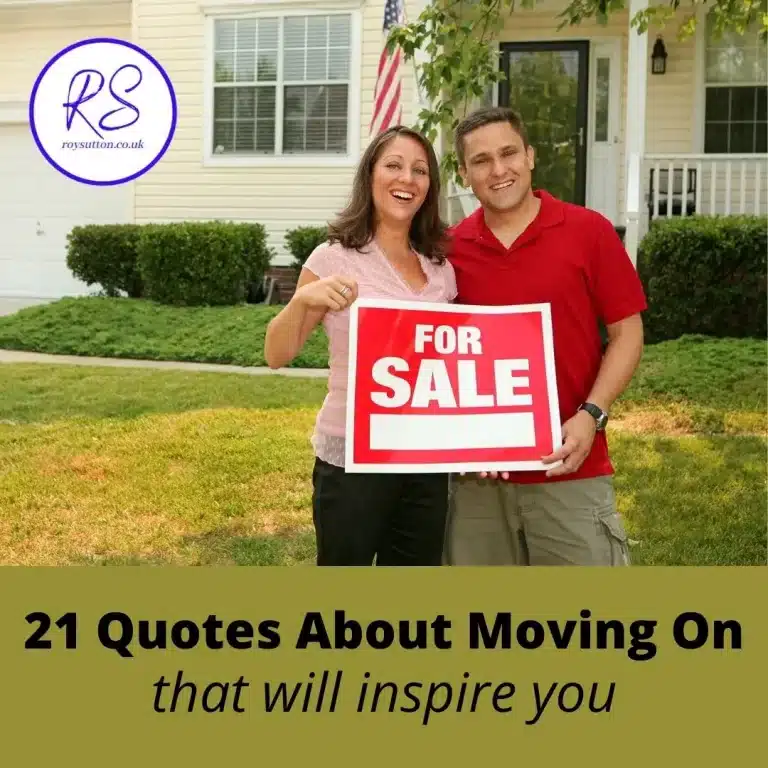 Every ending is a new beginning. When one chapter ends, we turn the page and there's a whole new chapter to explore.
Life is just a series of chapters and not everyone or everything has a place in every chapter. Your story will have many twists and turns before it reaches its conclusion.
It's natural to feel attached emotionally to the past but we can't live life through the rearview mirror. We must be positive and embrace the future.
It may move us out of our comfort zone but it's in that space we'll grow.
A sentimental longing for people, places and things is natural, of course. However, life is for living. And if we're to live life to the full we must look ahead and keep moving forward.
So here are 21 thought-provoking quotes about moving on to inspire you.
Having the courage to draw a line under an event or a relationship, or any other life-changing experience, is essential if we're to become all we could be.
When things end, life doesn't end. Life goes on and what's gone is in the past. So leave it there and look forward to the future.
And you can always keep in mind some of these quotes about moving on.
Quotes about moving on (1-7):
To help yourself you must be yourself. Be the best that you can be. When you make a mistake, learn from it, pick yourself up and move on. ~Dave Pelzer
Every day is a new day, and you'll never be able to find happiness if you don't move on. ~Carrie Underwood
Who can't relate to the idea of leaving one chapter behind and moving on to the next? ~Mike Shinoda
You just keep moving forward and doing what you do and hope that it resonates with people. And if it doesn't, you just keep moving on until you find a project that does. ~Octavia Spencer
In my life, I have made the occasional catastrophic choice, and it's just a case of moving on and learning from it. ~James Nesbitt
I can enjoy anywhere, and I can leave it. Life is about moving on. ~Waris Dirie
Moving on is not closure. It's not neat, and it's not about turning the page. It is about moving on, but it doesn't mean that you've left something behind. ~Thomas Gibson
Quotes about moving on (8-14):
I tell you the past is a bucket of ashes, so live not in your yesterdays, not just for tomorrow, but in the here and now. Keep moving and forget the post mortems; and remember, no one can get the jump on the future. ~Carl Sandburg
There's always something to suggest that you'll never be who you wanted to be. Your choice is to take it or keep on moving. ~Phylicia Rashad
I'm moving on. I should have made that clear when I made the announcement. I guess I wasn't clear. If people think you're leaving a show after all these years, you might be retiring. So I understand where they're coming from, but I should have impressed the fact that I hope I'm just moving on right now. ~Regis Philbin
I can relate to having those people in your life that you feel are moving on to this great, big, normal life and you're like, 'What's wrong with me?' ~Kristen Wiig
Man maintains his balance, poise, and sense of security only as he is moving forward. ~Maxwell Maltz
I think it's important to have closure in any relationship that ends – from a romantic relationship to a friendship. You should always have a sense of clarity at the end and know why it began and why it ended. You need that in your life to move cleanly into your next phase. ~Jennifer Aniston
I love being on the road. I love that lifestyle, travelling city to city, rocking out and moving on to the next place. ~Caleb Johnson
Quotes about moving on (15-21):
The art of war is simple enough. Find out where your enemy is. Get at him as soon as you can. Strike him as hard as you can, and keep moving on. ~Ulysses S. Grant
Moving on is a simple thing but what it leaves behind is hard. ~Dave Mustaine
It's time to say goodbye, but I think goodbyes are sad and I'd much rather say hello. Hello to a new adventure. ~Ernie Harwell
Don't dwell on what went wrong. Instead, focus on what to do next. Spend your energies on moving forward toward finding the answer. ~Denis Waitley
Don't brood. Get on with living and loving. You don't have forever. ~Leo Buscaglia
Forget the past – the future will give you plenty to worry about. ~George Allen, Sr.
Feeling sorry for ourselves is the most useless waste of energy on the planet. It does absolutely no good. We can't let our circumstances or what others do or don't do control us. We can decide to be happy regardless. ~Joyce Meyer
Please share this post with your friends:
Were these thought-provoking quotes about moving on interesting to you?
If they were then perhaps they might interest others you know too?
Please share this post with your friends on social media because when you share, everyone wins. If you could share this post now then I'd be ever so grateful.
Like every blogger, I can only keep doing what I do if there are readers viewing my blog posts. So you really can help me, dear reader.
Thank you.
Other articles that might appeal to you:
Copyright © Mann Island Media Limited 2022. All Rights Reserved.
(Visited 367 times, 14 visits today)